We celebrate Isa 43:1-4 and live out Col 1:28

In Isaiah 43:1-4 we find our message: the Lord declares "you are mine" and we want our youth to know that they belong to the eternal, all powerful, and redeeming God. We hope our youth learn to live in light of God's redeeming work.

In Colossians 1:28 we find our model: we proclaim Christ in order to present every youth mature in Christ. In all that we do we are proclaiming Christ for the purpose of our youth maturing in Christ.
Winter/Spring 2021 Schedule
All Winter/Spring 2021 youth events will be held at the Villarreal's from 7-8:20
Jan 20- Middle School LYM
Feb 10 - Middle school LYM
Mar 10 - Middle School LYM
Apr 21 - Middle School LYM
What does it mean to be "saved"? Many would say that to be saved is to have your sins forgiven. This is certainly true but there are many other aspects of being saved that we can look at to grow our understanding and appreciation of what God has done for us in Christ.

We will consider how being saved means we are redeemed, adopted, reconciled, freed, loved, welcomed into God's presence, made God's friend, and are united to Christ. Each of these serve to deepen our understanding and enjoyment of being saved.

It's our hope that at the end of the semester all our youth will believe in Christ and if they already do they will want to grow as a disciple because of the wonder and greatness of being saved.

In everything, we look forward to teaching the youth the wonder of redemption (Isa 43:1-3) and calling them to maturity in Christ (Col 1:28).

Our youth group loves to welcome visitors. We have fun together and make it easy for visitors to fit right in.


The Mission of LYM
Proclaiming Christ - Maturing In Christ
PROCLAIMING CHRIST
We proclaim Christ first and last to our youth. We want our youth to be confident that Christ is able to save and that He is worthy of their love and obedience.
We teach the bible in various ways. We sometimes go through a book a verse at time, sometimes we look at broad topics (for example: Theology of the Church), and we always seek to apply what we are learning to a biblical worldview.
And of course we have a lot of fun (a lot) with Christ at the center!
Any youth that comes through our ministry will walk away seeing Christ as the center of everything.
MATURING IN CHRIST
The goal of our ministry is to present youth mature in Christ. If they only have fun or only memorize a few verses then we haven't done enough. We want youth to be walking with God now and for the rest of their lives.
We measure maturity as having a love for God and His word, participating in the life of the whole church, and being able to interact with the fallen culture in a redeeming way with a biblical worldview.
Knowing, of course, that none of us ever arrives at total maturity, this drives us back to proclaiming Christ to another.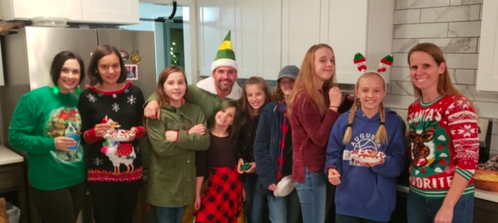 On Wednesday nights we gather for bible studies. We always start with snacks, a fun game, and then we dig into God's word. Wednesday Night Bible Study combines teaching and an extended time for youth to process together and learn from each other.
It can't be all serious! We have Friday Night Fun Night and Service Times! These are times for youth to come, bring friends, and be ready to have fun, laugh, and enjoy others.
We also spend time serving the needs of others around Augusta.
Every summer the youth load up and head out to summer camp. We partner with RYM and Ridge Haven as they are excellent at pointing youth to the beauty of Christ.
We'd love to hear from you.
If you have a question please let us know.