We celebrate Isa 43:1-4
In Isaiah 43:1-4 we find our message when the Lord declares to Israel "you are mine".
We want our youth to be encouraged and comforted by the eternal and redeeming God.

We live out Col 1:28
In Colossians 1:28 we find our model: we proclaim Christ in order to present every youth mature in Christ.
In all that we do we proclaim Christ so that our youth mature in Christ.
Fall/Winter 2021 Schedule
This Fall/Winter we are considering Tough Topics that Teens face
Bring your middle and high schoolers to discuss tough topics from a biblical perspective.
The first three Wednesday's of most months we have bible study.

Aug 11 - Aug 18
Sept 1 - Sept 8 - Sept 15
Oct 6 - Oct 13 - Oct 20
Nov 3 - Nov 10 - Nov 17
Dec 1

One Friday a month we have fun night - Friday Night Fun Night!

Aug 22 - Water slide fun!
Sept 24 - Fun in a field!
Oct 22 - Pizzas & Pumpkin Carving!
Nov 19 - Among Us!
Dec 10 - LYM Christmas Party!
On Friday Night Fun Nights parents and younger siblings are welcome to attend.



Check Back Later for 2022 Summer Trips Information
Our middle schoolers head out for an exciting week of fun and spiritual growth at an amazing location.

We hike, swim, eat good food, and learn about Jesus. This is a great opportunity for our youth to be challenged in their faith and build great friendships.

Make sure to register with our youth pastor to reserve your spot.
In the past, our high schoolers have loaded up and made their way summer camp with RYM.
https://www.rym.org/rym-beach-weekend

The youth have a fabulous few days of enjoying the beach and digging into God's word so that they can grow spiritually.

Make sure to register with our youth pastor to reserve your spot.
The LYM Ministry - What We Do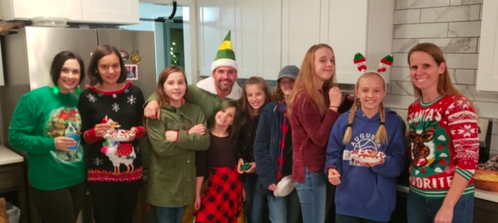 Bible Studies

On Wednesday nights we gather for bible studies. We always start with snacks, a fun game, and then we dig into God's word. Wednesday Night Bible Study combines teaching and an extended time for youth to process together and learn from each other.
Service & Fun

It can't be all serious! We have Friday Night Fun Night and Service Times! These are times for youth to come, bring friends, and be ready to have fun, laugh, and enjoy others.
We also spend time serving the needs of others around Augusta.
Summer Trips

Every summer the youth load up and head out to summer camp. We partner with RYM and Ridge Haven as they are excellent at pointing youth to the beauty of Christ.
We'd love to hear from you.
If you have a question please let us know.