We celebrate Isa 43:1-4
In Isaiah 43:1-4 we find our message when the Lord declares to Israel "you are mine".
We want our youth to be encouraged and comforted by the eternal and redeeming God.

We live out Col 1:28
In Colossians 1:28 we find our model: we proclaim Christ in order to present every youth mature in Christ.
In all that we do we proclaim Christ so that our youth mature in Christ.
Middle School Camp
June 28-July 1
Our middle schoolers with be heading out for an exciting week of fun and spiritual growth near Lake Jocassee in upstate South Carolina.

We will hike, swim, fish, eat good food, and learn about Jesus. This will be a great opportunity for our youth to be challenged in their faith and build great friendships.

Make sure to register with our youth pastor to reserve your spot.
Our high schoolers with load up and make their way down to Panama City Beach with RYM.
https://www.rym.org/rym-beach-weekend

The youth will have fabulous few days of enjoying the beach and digging into God's word so that they can grow spiritually.

Make sure to register with our youth pastor to reserve your spot.
We take the summers a little lighter around here so kick off your shoes and come hang out with us.
June 9 - Fun Night

June 21-24 - Help at VBS

June 24 - Pool party after VBS at Montclair Pool

June 28-July 1 - Middle School Camp

July 2-5 - High School Camp

July 14 - Fun Night

July 21 - BRAVES GAME

July 28 - Fun Night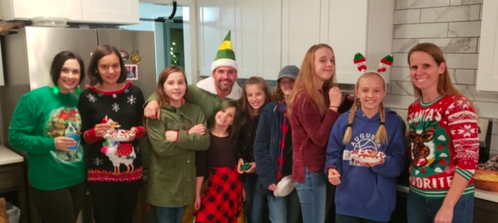 Bible Studies

On Wednesday nights we gather for bible studies. We always start with snacks, a fun game, and then we dig into God's word. Wednesday Night Bible Study combines teaching and an extended time for youth to process together and learn from each other.
Service & Fun

It can't be all serious! We have Friday Night Fun Night and Service Times! These are times for youth to come, bring friends, and be ready to have fun, laugh, and enjoy others.
We also spend time serving the needs of others around Augusta.
Summer Trips

Every summer the youth load up and head out to summer camp. We partner with RYM and Ridge Haven as they are excellent at pointing youth to the beauty of Christ.
We'd love to hear from you.
If you have a question please let us know.