We celebrate Isa 43:1-4
In Isaiah 43:1-4 we find our message when the Lord declares to Israel "you are mine".
We want our youth to be encouraged and comforted by the eternal and redeeming God.

We live out Col 1:28
In Colossians 1:28 we find our model: we proclaim Christ in order to present every youth mature in Christ.
In all that we do we proclaim Christ so that our youth mature in Christ.
Middle School Camp
June 21-25
Our middle schoolers with be heading out for an exciting week of fun and spiritual growth at THE EDGE in Chattanooga.
https://www.edgeconference.org/

This will be a great opportunity for our youth to be challenged in their faith and build great friendships.

Make sure to register with our youth pastor to reserve your spot.
Our high schoolers with load up and make their way down to Panama City Beach with RYM.
https://www.rym.org/rym-beach-weekend

The youth will have fabulous few days of enjoying the beach and digging into God's word so that they can grow spiritually.

Make sure to register with our youth pastor to reserve your spot.
Winter/Spring 2021 Schedule
All Winter/Spring 2021 youth events will be held at the Villarreal's from 7-8:20
Jan 20- Middle School LYM
Feb 10 - Middle school LYM
Mar 10 - Middle School LYM
Apr 21 - Middle School LYM
What does it mean to be "saved"? Many would say that to be saved is to have your sins forgiven. This is certainly true but there are many other aspects of being saved that we can look at to grow our understanding and appreciation of what God has done for us in Christ.

We will consider how being saved means we are redeemed, adopted, reconciled, freed, loved, welcomed into God's presence, made God's friend, and are united to Christ. Each of these serve to deepen our understanding and enjoyment of being saved.

It's our hope that at the end of the semester all our youth will believe in Christ and if they already do they will want to grow as a disciple because of the wonder and greatness of being saved.

In everything, we look forward to teaching the youth the wonder of redemption (Isa 43:1-3) and calling them to maturity in Christ (Col 1:28).

Our youth group loves to welcome visitors. We have fun together and make it easy for visitors to fit right in.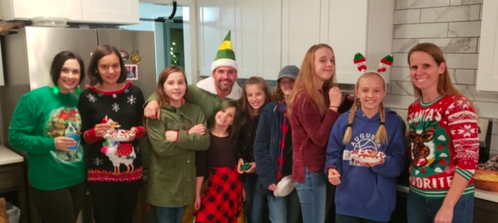 Bible Studies

On Wednesday nights we gather for bible studies. We always start with snacks, a fun game, and then we dig into God's word. Wednesday Night Bible Study combines teaching and an extended time for youth to process together and learn from each other.
Service & Fun

It can't be all serious! We have Friday Night Fun Night and Service Times! These are times for youth to come, bring friends, and be ready to have fun, laugh, and enjoy others.
We also spend time serving the needs of others around Augusta.
Summer Trips

Every summer the youth load up and head out to summer camp. We partner with RYM and Ridge Haven as they are excellent at pointing youth to the beauty of Christ.
We'd love to hear from you.
If you have a question please let us know.