Welcome To The Pastor's Blog
On this page you will find insights from our pastor on many varying topics.
As you read these, it is our hope that you will be led deeper into your understanding of God's word and growth in Christlikeness.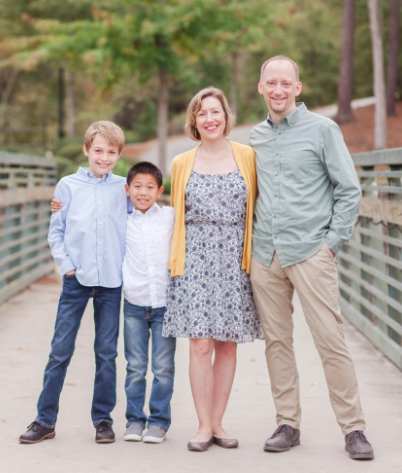 Thankful for Sadness on a Chinese New Year
February 12, 2021
Beloved,
Some things that happen, good or bad, change your life, give you wisdom, and alter your perspective. Today is Chinese New Year. 7 years ago, I would barely have given that a thought. But now for me, it is a day of both joy and sadness. It is joy, of course, because it reminds me of my younger son, adopted from China in '15. And yet there is sadness too, knowing that he has suffered a loss of ever knowing his birth parents, of not knowing why they gave him up, and of knowing he can never find them. It is also a reminder of sadness knowing all the horrible atrocities, persecution, and oppression that have been occurring in China in the last few years, especially to the Christians there (and to other faith groups as well). Yet, I am thankful for the 'sadness'. It is part of my life, and it has expanded my horizons, increased my empathy, given me a greater vision for praying for God's work in other countries, etc. None of these things could have happened without the sad instance of a Chinese mother (or mother and father) leaving their baby in a hospital.

I say this as I'm reading another chapter in Joshua Chatraw's book, Telling a Better Story: How to Talk About God in a Skeptical Age. In this chapter, "Imagining A Better Happiness", he deals with the modern cultural assumption that 'the ultimate goal in life is to be happy'. "Rather than the good life being defined in predominantly moral terms (i.e. seeking virtue, shunning vice, and conforming to a divinely given 'way'), now the good life is often defined by the pursuit of a feeling, which is won by the accumulation of all the things you would find if one were to wield together ideal versions of a job résumé, dating profile, and Christmas list. By achieving success, wealth, power, and the right body type, we've allowed a modern combination of meritocracy and consumerism to cast an imaginative and alluring vision of 'happily ever after'......To most late-moderns, the goal of life is to make oneself happy on one's own terms." (pgs. 107-108).
On the next page, he gives the Christian contrast to this view: "...a central idea in the Christian story has always been that because of sin and the fall, which have marred both human nature and the natural world, humans will never be perfectly happy in this life. In this life, pain and suffering can't be completely escaped. Our most prized achievements will be undermined. We will fail at our most worthy endeavors. We will watch loved ones die. We will, inevitably, lose our own health. Then one day we will die.
If our joy is contingent on circumstances, we will be fragile, anxious, or on the brink of despair because we know we can't actually escape pain and loss. In response to these experiences, some have suggested seeking to avoid the pain of inevitable loss by never fully giving ourselves to anything. While perhaps safeguarding (at least in part) against the sorrow of loss, the result is a numbing of the very affections that make us human--and the more powerful the anesthesia, the more we lose the capacity for the joy we were made for.
In contrast to the secular therapeutic approach to life that seeks to escape such pain as the foundation for the good life, the Christian approach is more realistic about the inevitable circumstances of this life. Suffering is an inescapable part of our present human existence, and only by learning from our pain can we become fully human--and truly flourish. Experiencing great sorrow is not the antithesis to the good life but can instead be the result of knowing true joy. For to truly love also means to feel the pain of loss. To delight in the light within the world means you will lament the darkness. Knowing the true story, sensing the echoes of Eden and the inbreaking of God's future reign, makes us feel the pain and sorrows of our present evil world all the more acutely. As Jesus taught, 'Blessed [flourishing] are those who mourn' (Matthew 5:4). This is not a mourning that is absent of joy. Happiness in hope buoys the soul, for a better day is coming." (pgs. 109-110).
His contrast here (and again, his way of both entering 'inside' the view of the unbeliever and showing its weaknesses, then going 'outside' to the better Christian story) is helpful for us in seeking to reach others with the Gospel, to show its beauty, power, and joy as the real answers to the things they long for.

It also reminds me of a section of Ecclesiastes 7, specifically verses 2-4, "It is better to go to the house of mourning than to go to the house of feasting, for this is the end of all mankind, and the living will lay it to heart. Sorrow is better than laughter, for by sadness of face the heart is made glad. The heart of the wise is in the house of mourning, but the heart of fools is in the house of mirth." The Preacher of Ecclesiastes is saying something similar to Chatraw's point. While sadness, mourning, sorrow and pain are never good in and of themselves, the Lord uses them for good! In mourning, we gain perspective, wisdom, a proper seriousness, and redirected affections! Merely seeking happiness in this life will never satisfy, because it is always unattainable. Mirth is enjoyable, but ultimately is an impotent anesthetic for our pain. Sadness and pain also have a way of clarifying what is important, and what is transient, and they also hopefully serve to focus us on our true hope, and cast aside our idols.
I hope that as we prepare to worship this Sunday, you will seek true joy, not in spite of the sorrows of this world, but through the wisdom you gain from them, and the knowledge that a better day is coming. We truly have a story that enables real hope!

With you seeking to lay this to heart,

Pastor Dave


A Prayer For The New Year
Here is a prayer from William Jay's Prayers for the Use of Families (1866) and it is entitled, "First Morning of the New Year":

"As we have entered on a new period of life, may we faithfully examine ourselves, to see what has been amiss in our former temper or conduct; and in thy strength may we resolve to correct it. And may we inquire for the future, with a full determination to reduce our knowledge to practice: "Lord, what wilt thou have me to do?" Prepare us for all the duties of the ensuing year, the wisdom and strength necessary for the performance of them must come from thyself; may we therefore live a life of self-distrust, of divine dependence, and of prayer; may we ask and receive, that our joy may be full; may we live in the Spirit, and walk in the Spirit.
If we are indulged with prosperity let not our prosperity destroy us nor injure us.

If we are exercised with adversity, suffer us not to sink in the hour of trouble, or sin against God. May we know how to be abased without despondence, and to abound without pride. If our relative comforts are continued to us, may we love them without idolatry, and hold them at thy disposal; and if they are recalled from us, may we be enabled to say, 'The Lord gave, and the Lord hath taken away; blessed be the name of the Lord.'

Fit us for all events. We know not what a day may bring forth; but we encourage ourselves in the Lord our God, and go forward. Nothing can befall us by chance. Thou hast been thus far our helper: Thou hast promised to be with us in every condition; Thou hast engaged to make all things work together for our good: all thy ways are mercy and truth. May we therefore be careful for nothing, but in everything, by prayer and supplication, with thanksgiving, may we make our requests unto God: and may the peace of God, that passeth all understanding, keep our hearts and minds through Christ Jesus."

I think that these are excellent things to pray as we look to the New Year, to be prepared whether we are in plenty or want, sickness or health, suffering or prosperity, and above all to have a God-centered frame of reference as we face whatever 2021 brings.

With you seeking to live "a life of self-distrust, of divine dependence, and of prayer,"

Pastor Dave


Beloved,

Today, I want to share with you an important theological term (don't be scared!), and explain why it really is a practical and encouraging thing to learn. Are you ready? Here it is: imputation.

Imputation is a forensic or legal term that simply means that merit or guilt is credited to your account. Think of 2 Corinthians 5:19, "... in Christ God was reconciling the world to himself, not counting their trespasses against them...." (ESV). If we are in Christ, our guilt is credited or imputed to Christ. So, if our sins are not counted against us, does that simply mean we are neutral? Is the record simply neither positive, nor negative? Practically, I think a lot of Christians live this way. They know that they are forgiven and that Christ has taken the punishment for their sins, but they stop there. And it leaves them often feeling guilty for their failings and sins now that they are Christians. They have a sense of never quite measuring up to God's standards. To return to our word, they sort of understand that our sins are 'imputed' to Jesus, but they may be unaware that there is a double imputation. Not only do our sins get imputed to Christ, but there is another legal exchange - His righteousness is 'imputed' or credited to us! We are not simply forgiven and neutral before God, we are now counted as righteous! This great exchange or double imputation, is a great comfort, encouragement and assurance to the Christian.

Iain M. Duguid, in his book, The Whole Armor of God: How Christ's Victory Strengthens Us for Spiritual Warfare (Crossway, 2019), says this:
"This exchange deal is particularly good news to those of us who know that our goodness isn't nearly good enough. Some may fool themselves that God ought to be rather pleased with their righteousness. They think they are doing quite nicely in obeying God and keeping his law. But others know the truth: we are miserable failures in our efforts to be good. We have not done what we ought or said what we ought or thought what we ought. As we look back over today and yesterday and last week, we lose count of the multitude of times we have failed God through lust, pride, selfishness, lies, coveting, and so on." (pg. 43).

So, where do we go as we realize this hard truth about us - even after we've been Christians a long time? Duguid does a great job showing the two ways this should both assure and challenge us. He continues: "This central truth of imputed righteousness of Christ needs to dominate the lives of Christians. On the one hand, it means that nothing I can do could ever stop God from loving me. If God loved me enough to give himself for me when I was his sworn enemy, he will certainly love me enough to forgive me now that I am his adopted child. The righteousness that comes through the cross gives us assurance and security in God's love. If I have been reconciled to God through Christ and am always clothed in his perfect righteousness, then even during the darkest nights of personal failure, when I slide right back into those sins that have the strongest grips on my heart, he will not cast me off.

This can be a hard lesson to grasp, especially if you grew up in a home where every failure was counted against you, and you were loved or rejected on the basis of your performance. But your heavenly Father is a father who always stands waiting at the roadside for the prodigal to come home, always impatient to run to meet you, always hastening to replace your filthy rags with party clothes, and always ready to slay the fattened calf for a grand celebration. He welcomes you home on the basis of Christ's goodness, not your own.

On the other hand, the righteousness that comes through the cross also means that I can never take my sin lightly and just shrug it off. I have been reconciled to God and made a new creature in Christ (2 Cor. 5:17). God is now at work in me by his Holy Spirit. His purpose is to make me part of a holy people, created for good works in Christ Jesus (Eph. 2:10). Why, then, would I act as if I am still a part of the kingdom of darkness and plunge back into my former way of life among the prostitutes and the pigs as if nothing had happened? The righteousness of Christ, painfully won for us as the cross, motivates us to strive hard toward an obedience that fits the new nature God is working in us." (pg. 44-45).

Understanding the imputation of Christ's righteousness to us should give us that humble assurance we need, to know the Father's love for us is unchanging, regardless of our performance, because He is relating to us on the basis of Christ's performance and not ours. But it also means that on the basis of that assurance, we dependently work by the Spirit, to fight to become more and more who we are in Christ! We respond to His loving work with our response of loving and grateful obedience. We will continue to fail in this, but, as Duguid said, "even during the darkest nights of personal failure...he will not cast me off". I don't know about you, but I desperately need that reminder each and every day.

I hope this is a reminder, that theology is practical and relevant to our lives and growth in grace! So today, I urge you to rest in the righteousness that the Lord has credited to you, and the love it ensures for you, and work from that new status (instead of trying to achieve a status on your own) to grow in obedience and holiness. The good news of the gospel is good news for Christians too! You are loved! You are righteous in Christ! And you are no longer enslaved to sin, but can freely seek to obey your God!

Have a great day Beloved!

With you resting in His imputed righteousness,

Pastor Dave
Have you not known? Have you not heard?
Beloved, Isaiah 40:28 is one of the most well-known and well-loved verses in the Bible. "Have you not known? Have you not heard? The LORD is the everlasting God, the Creator of the ends of the earth. He does not faint or grow weary; his understanding is unsearchable." While I was on vacation last week, I had a chance to think about this verse, as I read Derek Thomas' book, Strength for the Weary (Reformation Trust Publishing, 2018).

In considering that verse, Thomas writes: "In one verse, Isaiah provides us with a magnificent portrait of God. As [Alec] Motyer summarizes, 'In one way or another the fourfold Old Testament doctrine of God the Creator is represented here: he originates everything, maintains everything in existence, controls everything in operation, and directs everything to the end that he appoints.'
Open your eyes and take a good, long, hard look at God:
Lift up your eyes and see. (Isa. 40:26)
There is no one like our God.
To whom will you compare me? (Isa. 40:25)

God is in a category all His own. And knowing this brings strength and vitality.It is not strength in ourselves that is encouraged here but strength in Him--in the sovereign, all-powerful, all-wise, all-sustaining, never-tiring God.
Are you weary? Losing faith in God's promises? Tired in the heat of battle? Overwhelmed by the opposition?

Then what you need is a fresh glimpse of the majesty of God. Sometimes, we cannot see what is right before us and above us." (pg. 15).

Beloved, what you and I both need today (and every day) is a fresh glimpse of His majesty! He has revealed it to us in His word, and He has revealed it to us in His creation (Rom. 1:19-20; Ps. 19:1-6). Can you see it? If not, then consider praying something like the Apostle Paul's prayer in Eph. 1, especially verses 16–19:"I do not cease to give thanks for you, remembering you in my prayers, that the God of our Lord Jesus Christ, the Father of glory, may give you the Spirit of wisdom and of revelation in the knowledge of him, having the eyes of your hearts enlightened, that you may know what is the hope to which he has called you, what are the riches of his glorious inheritance in the saints, and what is the immeasurable greatness of his power toward us who believe, according to the working of his great might"

With you in needing a fresh glimpse of our Lord's majesty,

Pastor Dave


Beloved, having returned from a brief vacation last week, I am reminded that in my experience, we place great hopes in vacation to renew us, refresh us, and energize us. And I don't know about you, but I find that those hopes are often thwarted! It takes extra work to prepare for vacation. And it often takes a long time in the car or a plane to get to vacation, and likewise to return from vacation. And sometimes it feels like we need both recovery time from vacation, and extra work to catch up after vacation. (Don't get me wrong, I enjoyed our time away as a family!).

All this (and some things I have been reading), have made me ponder more about something better to hope and pray for - revival. Now, in many places in the country, particularly here in the Bible belt, 'revival' has come to mean a scheduled event, with a guest speaker and a renewed effort by a church to reach out to the community. While those are laudable efforts, with all due respect, that is NOT the Biblical picture of revival. Psalm 85:1–7 has the Sons of Korah both remembering a previous 'revival' and praying fervently for another revival from the Lord:"LORD, you were favorable to your land; you restored the fortunes of Jacob. You forgave the iniquity of your people; you covered all their sin. You withdrew all your wrath; you turned from your hot anger. Restore us again, O God of our salvation, and put away your indignation toward us! Will you be angry with us forever? Will you prolong your anger to all generations? Will you not revive us again, that your people may rejoice in you? Show us your steadfast love, O LORD, and grant us your salvation."

Notice, there is the idea that restoration is needed, a return to a previous level of zeal, sanctification, holiness, and blessing. There is the sense of need, as the Lord's chastening hand seems to be upon His people in some way for their sin and apathy. And there is a great God-centered longing in this prayer: "Will you not revive us again, that your people may rejoice in you?" The people of God want Him to revive them, so that their joy will be renewed in Him! They want to apprehend anew His steadfast love! They long to know the blessings of His salvation among them! Shouldn't that be our fervent prayer as well?
As I mentioned previously, the great Anglican theologian and writer, J.I. Packer recently passed away. And so, I finally cracked open a book of his that I acquired a few years ago, Seeing God in the Dark: Unraveling the Mysteries of Holy Living (Hendrickson Publishers, 2013), which is a collection of some of his shorter writings and articles. The second section of the book is all about revival, and I was struck by how much focus there actually is on revival in Scripture and it makes me want to pray more consistently and zealously for the Lord to "revive us again".

Here Packer suggests that the Lord's prayer itself is a prayer for revival!
"Christ taught his disciples to pray, 'Hallowed be thy name.' God's 'name' means God himself as he has made himself known. That which dishonours and profanes God's name is lukewarmness and deadness in the churches, the gospel belied by the lives of its adherents, and paganism triumphant in the world. That which hallows God's name is a reversal of these conditions--strong faith and victorious holiness in the churches, and the winning of lost souls to the Saviour (see Ezek. 36:20-23). To pray "Hallowed be thy name' with understanding in days of spiritual decline therefore involves praying for revival. If, then, it is right to think that the Lord will return at a time of great apostasy, does it not follow that when he comes he should find the faithful on their knees praying for revival? And does it not follow too that whenever churches find themselves weak and ineffective, whenever their defeats revale that the judgment of God is upon them for their past unfaithfulness, the saints should begin to pray for a revival? Such circumstances should bring to their lips Habakkuk's prayer: 'O LORD, revive thy work in the midst of the years...in wrath remember mercy' (Hab. 3:3). And the worse things are, the more earnestly should the cry for revival go up, as it did in Israel of old (See the great Bible prayers for revival in the Old Testament: Pss. 44; 74; 79; 80; 85:4-7; Isa. 63:15-64:12; Lam. 5). In these days of growing apostasy and secularism, we should be inexcusable if we were prepared to be content with anything less than revival, and did not make the cry for revival our own: 'Wilt thou not revive us again; that thy people may rejoice in thee?' (Ps. 85:6)." (pg. 56).

Isn't this really what we should continually long for and pray for? Why do we spend so much of our time, hopes and efforts on getting the right people elected, the right justices in the courts, or the right laws passed? Those are important things to be sure, but they do not ultimately change anything, and they continually disappoint our hopes and feed our fears. Why not divert some of the time we spend worrying about those things, forwarding messages about those things and complaining about those things into times of prayer for the Lord to revive His church, to renew His people, and to see a great wave of lost people come to know the Lord?

So what are the specific pictures and principles of revival that the BIble gives us? Packer suggests that there are prayers for revival (like the ones in the quote above), prophetic pictures of revival (such as Isa. 35:3-10; 40-46; Jer. 31; Ezek. 34; 36:16-38; Joel 2:12-32; Zech. 1-8), and narratives of revival (under Asa, 2 Chron. 15; Hezekiah, 2 Chron. 29-31; Josiah, 2 Chron. 34-35; Ezra, Ezra 9-10; Nehemiah, Neh. 8-10; and --foremost in importance--the revival that began with Pentecost, Acts 2-12). (pg. 57).

And then Packer sums up the main emphases of revival in Scripture:

1. Revival is God renewing the church. "Revival reaches Christians individually, no doubt, but it is not an individualistic affair; God revives, not just the Christian, but the Church, and then the new life overflows from the Church for the conversion of outsiders and the renovation of society." (pg. 57).

2. Revival is God turning away his anger from the Church. "For God's people to be impotent against their enemies is a sign that God is judging them for their sins. The cry for revival springs from the sense of judgment (Pss. 79:4-9; 80:12-14; 85:4-7; Hab. 3:2); the coming of revival is God's comforting of his people and restoring them after judgement." (pg. 57). I would add that God still loves His church in these times, but He is displeased with them for their sin, apathy, and disobedience. It is a chastening and disciplining judgment, rather than a removal of relationship. Conversely, "Revival is God manifesting himself to his people; visiting them (Ps. 80:14; Jer. 29:10-14), coming to dwell with them (Zech. 2:10ff), pouring out his Spirit on them (Joel 2:28; Acts 2:17ff.), quickening their consciences, showing them their sins and exalting Christ in their eyes in his saving glory." (pg. 57-58).

3. Revival is God making known the sovereignty of his grace. "Revival is entirely a work of grace, for it comes to churches that only deserve judgement; and God brings it about in such a way as to show that his grace is entirely sovereign in it, and human plans and schemes had nothing to do with it. We can organize conventions and campaigns, but the only organizer of revival is God the Holy Ghost. Revival, when it comes, comes suddenly, unexpectedly, as at Pentecost, breaking out often in obscure places through the ministry of obscure people; God sends revival in a way that shows that he is its only source, and all the praise and glory of it must be given to him alone." (pg. 58).

So, if we do long for revival, but if only God brings revival, what is our part?

Let me close with Packer's closing exhortation:
"Two things. First, preach and teach God's truth; second, pray. Preach and teach because it is his truth, and the blessing of revival cannot reach further than the gospel has gone. Pray, because God has told us that we need not expect to receive unless we ask, and, in the words of Jonathan Edwards, the classic theologian of revival, 'When God has something very great to accomplish for his Church, it is his will that there should precede it, the extraordinary prayers of his people; as is manifest by Ezek. 36:37. [see the context]. And it is revealed that, when God is about to accomplish great things for his Church, he will begin by remarkably pouring out the spirit of grace and supplication (Zech. 12:10).'
God help us, then, to seek his face till he come and rain righteousness upon us; and to him shall be all the glory and praise." (pg. 58).

As we consider the two messages on prayer from 2 Samuel 7 and James 5 that we've heard these last two Lord's days, perhaps it is time for us as individuals and as a church, to be frequently on our knees, praying for the Lord to glorify Himself by reviving and renewing us, that we might rejoice in Him!
With you longing to see God revive us,

Pastor Dave