Pastor Dave's
Book Recommendations
& Reviews
Before You Lose Your Faith: Deconstructing Doubt in the Church
Perhaps you've read about the 'deconstruction' phenomenon of the last few years, where people who had formerly professed the Christian faith come to a point where they announce they have in some way now found Christianity to be implausible or irreconcilable with their new feelings about sex, race, politics, social justice, science, hell, etc. Several notable musicians in the contemporary Christian music industry, and even a former well-known evangelical pastor (Joshua Harris of
I Kissed Dating Good-Bye
fame) have followed this path.
The Gospel Coalition has released a helpful little book about this phenomenon, designed to help those considering 'deconstruction' from the faith by addressing these areas. The book is
Before You Lose Your Faith: Deconstructing Doubt in the Church
,
(The Gospel Coalition, 2021) edited by Ivan Mesa (brother-in-law to our own Alecia Wilkes), and with many thoughtful contributions from some great pastors, theologians and authors. Each chapter is relatively short (3-5 pages average) and the whole book is only about 140 pages. I also found it very helpful in examining the ways churches can inadvertently encourage deconstruction among their members, and thus it is helpful for those of us who are not considering deconstructing, but want to prevent it in those we love.
The book is divided into three main sections:
'Part One: Deconstruct Deconstructing', that directly address the process of deconstructing. Trevin Wax argues that doubt used well can actually strengthen your faith, if you respond to it well and look for help in the right places. Ian Harber, in a chapter titled, "'Progressive Christianity Was Even Shallower Than the Evangelical Faith I Left,'" argues as one who went through the same process, and learned firsthand that attempts to make Christianity more palatable to modern tastes and trends ultimately leaves you in worse shape than you were as you saw the problems in evangelicalism. Brett McCracken argues that 'deconversion', rather than being some brave counter-cultural act, actually is really the path of least resistance. (This chapter was really excellent)! The book continues with

'Part Two: Deconstruct the Issues', and has chapters dealing with sex, race, politics, the internet, social justice, scientism, anti-intellectualism, and hell. Again, these were all very helpful! Finally, the book concludes with
'Part Three: Reconstruct Faith'. The first chapter of that section is one that I think can be helpful to share with you. It's by Jeremy Linneman, and it is called, "Embrace True Belonging in the Church", focusing on the importance of community. And I believe in the divisive times we live in, where churches are hemorrhaging members over all kinds of issues, this chapter's wisdom can really help us. It first focuses on how 'radical individualism' is one of the factors that has led to so much dissatisfaction in the church and deconstruction stories as a result.
But then it urges people to embrace true community. Here is Linneman's description:
"We must learn that Christian community is built, not found. One of my pastor friends has often told his church, 'This isn't a great place to find community--it's a great place to build community.' In other words, if you're looking for a community that will welcome you into its club of happy, non-dramatic, non-demanding friends, good luck. Maybe you do find a group that says, 'Come on in; it's perfect in here. We've been waiting just for you. We have everything taken care of.' But that's either a false promise, or it's a cult--or maybe just an overeager group workout class. No, Christian community must be built, not found.
Christian community is hard because people are hard (yes, that includes you). But, it's worthwhile. And in my experience, the more time and energy you invest in helping others feel connected, the more you tend to feel connected. If you work to make a place for others, you'll likely always have a place yourself. If you're willing to take initiative, build relationships, and care for others even when it's boring, repetitive, or messy--and if you expect this journey to count by years and not months--you will find yourself in true and living community (Rom. 12:9-21)." (pg. 117).
I won't add much to that, except to say that I hope you see the Biblical wisdom in his words. Community is not about social events (although those can help give opportunties for relationship building), but about the time, effort, endurance, and patience involved in building friendships with other flawed, difficult sinners who are similarly in need of grace, mercy, and love - just like you are! May Lakemont more and more become, in that anonymous pastor's words, "A great place to build community."
With you hopeful for the Lord to continually build that community among us,
Pastor Dave
Being the Bad Guys: How to Live for Jesus in a World That Says You Shouldn't
Yesterday, I finished reading a new book by an author I had not read before, Stephen McAlpine. He is an Australian pastor, blogger and former journalist. His book is called, Being the Bad Guys: How to Live for Jesus in a World That Says You Shouldn't (The Good Book Company, 2021). In light of our rapidly changing culture, particularly in the areas of sexuality, gender, politics, ethics and morality, I think this is a must-read! Rather than quote one specific section, I want to give you a selection of quotes to (hopefully) whet your appetite for the helpful and Biblical thinking and application that pervades this book:
In the introduction, he explains how we got where we are and how Christians came to be seen as "the bad guys" now, and then ends it saying:
"Yes, we're the bad guys now. And that's ok. That we are experiencing a backlash after a remarkable period of religious peace and tolerance for the church in the West puts us back in the shoes of many Christians throughout history, and indeed of many in the current era around the world. The answers to how to live as bad guys are there, simply because the problem of finding ourselves rejected by the world has always been there. As we explore the problem and then unpack the answers the Bible offers, we will find ourselves able to do what many Christians have done down the ages: live holy, happy, loving and joyous lives that compel as many people as they repel: to be the best bad guys we can be." (pgs. 13-14)
"The Bible tells us to expect hostility as Christians....If the church is bred on a diet of self-help books that try to convince us that God's intention is to make our lives as smooth as possible, we will be suckers in a hostile world. No wonder we become confused, angry or despairing when the culture is throwing rotten tomatoes, not rose petals, at us." (pg. 31).
"For the Christian, joy in the present is always future-focused.
This is worth bearing in mind in a world which lives in a perpetual state of 'now', especially in the online world that feeds on and then regurgitates anger towards injustices, actual or otherwise. It is easy for Christians to be swept up into this anger. It isn't hard to think of examples of injustices experienced by Christians in workplaces or universities, just for holding beliefs that were considered perfectly normal a mere five minutes ago. And there is nothing wrong with defending the long-held freedoms that Christianity helped give to our culture--the very culture that is now jettisoning the Christian framework. There are insightful and gifted individuals and organizations working to ensure that these freedoms are not lost. But too often there is also a sense of rage among Christians, giving the impression that what is going on is a zero-sum game--that if we don't win this culture war, everything is over. That is how earthly politics works, not God's kingdom.
The New Testament documents were written in a context where Roman imperial power held sway. But Paul could call on Christians in Rome to be subject to those governing authorities (Romans 13 v 1) because God is the ultimate authority. The Scriptures clearly hold out our ultimate hope--and the joy that accompanies it--in the return of the resurrected Jesus. His suffering is presented as the template for us to follow, knowing that suffering now will lead to glory later. This world is not all there is.
Peter is so sure of this future inevitability that he speaks of it in the present tense: 'If you are insulted because of the name of Christ, you are blessed' (1 Peter 4 v 14). The present presence of God's Spirit guarantees the glory to come, whatever the current experience. Anger or outrage are sure signs that the future joy guaranteed to us has fallen off our radars as we are insulted or sidelined or scorned. Reacting with joy is a better reflection of reality." (pgs. 39-40).
"And the way we live must be shocking in a way that is also compelling. It must raise questions for those looking on--questions such as, If their way of thinking about sexuality and individual expression is so wrong, how come their lives look so good? Or, If they're supposedly given over to hate speech, how come they serve and love their enemies? Or, Why is their speech so measured when they are scorned on social media? Or (most perturbingly to a culture that views personal sexual freedom as our primary identity marker), Why are their marriages strong, their single people chaste, and their same-sex-attracted people so fulfilled by non-sexual relationships?
We have some way to go, but if we ground our identity together in Christ, at least we're headed in the right direction." (pg. 58).
"The two things we fear losing the most are certainty and comfort. As Christians we have taken these things for granted (as has the rest of our culture), even though we would affirm that our one comfort in life and death is that we are not our own. Until, of course, a global pandemic hits and someone buys up all the toilet paper. Our reactions show where our comfort lies! It's easy to craft a life in which our desire for self-fulfillment lies unnoticed until challenged" (pg. 83).
"When we show undeserved forgiveness in 'cancel culture', in which every indiscretion--past or present--is pounced upon, and in which careers and friendships are ended because of a tweet; when we show costly generosity in a greedy culture; when we fail to take advantage of people in an every-person-for-themselves culture; when we esteem others as greater than ourselves in a self-promoting culture--we are sending powerful signals to those who would otherwise reject us for our views on sex.
It's first of all confusing ('How can they be so loving when they reject the idea that love is love?'); then it's intriguing ('I don't agree with how intolerant they are supposed to be, but they welcomed me in'); next, it's attractive ('It looks and feels and sounds better than what I'm currently doing'); and finally, it's compelling ('I think that this might just be where true life is found')."
I found this book very challenging, compelling (to borrow his word), and convicting. He both shows the inherent weaknesses of the culture's alternative story while also showing the weaknesses of the ways many Christians are responding to it! And, as I hope you saw glimpses of in these quotes, he also offers Biblical applications and strategies to respond to these challenging days. My copy is very marked-up and dog-eared and underlined (in other words, 2nd and Charles would not take it now), and I hope that I can take the lessons I've learned from it and apply them to more effectively live for Jesus in our day. You can get a copy here:
https://www.cvbbs.com/products/being-the-bad-guys-how-to-live-for-jesus-in-a-world-that-says-your-shouldnt-avail-feb-1-2020?_pos=1&_sid=4bdaa6ae4&_ss=r
It is so easy to claim the promises of Scripture that we like, that comfort us, and that soothe us, while ignoring the harder 'promises': "If the world hates you, know that it has hated me before it hated you. If you were of the world, the world would love you as its own; but because you are not of the world, therefore the world hates you." (John 15:18-19). "You will be hated by all for my name's sake." (Luke 21:17). And we sometimes, in our 'zeal', forget God's clear commands on how to respond: "But I say to you who hear, Love your enemies, do good to those who hate you, bless those who curse you, pray for those who abuse you." (Luke 6:27). Let's keep those in mind the next time we are angered by something on social media and are tempted to scorn, mock, or rage in response!
Let's seek to be, as McAlpine urged, "confusing, intriguing, attractive, compelling" (pg. 91).
With you seeking future-focused joy in the present,
Pastor Dave
No Flesh Shall Glory: How the Bible Destroys the Foundations of Racism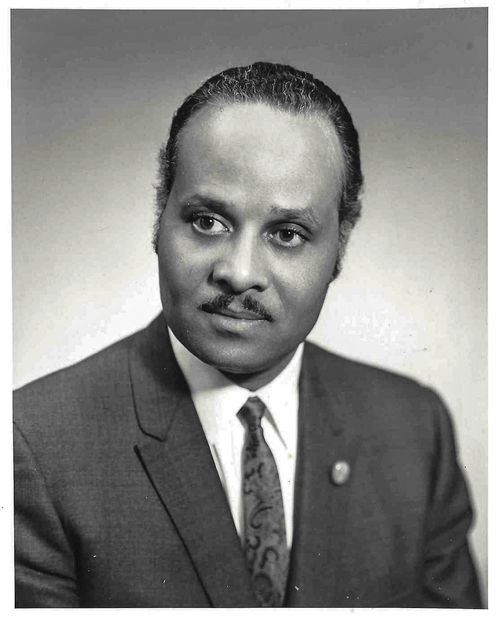 Beloved,
We are nearing the end of February, a month that has been designated "Black History Month". And so, P&R Publishing chose to release a new and revised version of a book that they first published back in 1959(!!!): No Flesh Shall Glory: How The Bible Destroys The Foundations of Racism by C. Herbert Oliver (P&R Publishing, 2021). Why, when our culture has changed so much over the last 62 years, would this great reformed publishing company choose to re-release such an old book? Well, I can't speak directly for them, but I can speak to why I think they did. First, while this book was written to challenge some of the prevailing sins in the church and the country in 1959, the confrontation of those sins is done without rancour, bitterness or venom, but instead given with grace and love. Second, the author, in his acknowledgements, specifically says that two Westminster Seminary Professors, Paul Wooley and Ned Stonehouse, were among those who gave him helpful feedback and criticism that greatly strengthened his arguments, and thus, we can have the great presumption that this work is consistent with a Reformed understanding of Scripture, the Gospel, God's sovereignty and His grace.
This revised edition also includes as an appendix, "The Church and Social Change", a lecture the author gave at Westminster Theological Seminary in 1964.

Here's what made me decide to buy it and read it. The author, C. Herbert Oliver, is an African-American man (who as near as I could find out is still alive, making him around 96 years old this year!!!), a graduate of Wheaton College, and of Westminster Theological Seminary, and was at the time of the writing of this book, an ordained Teaching Elder in our sister denomination, the Orthodox Presbyterian Church, and faithfully pastored for many years until his retirement in 1992. I had not heard of him before this book was re-released, but his story is impressive! This book also came with endorsements by Phil Ryken, the current president of Wheaton, and Peter Lilback, the current president of Westminster Theological Seminary.

My purpose is not to urge you to buy the book (although I think it is a helpful, clear and concise work [of only 131 pages]), but to highlight that men like Pastor Oliver exist. Men who both grieve the societal and individual sins of racism, and yet seek Biblical truths and wisdom to combat them. Here are a few representative quotes from the book:

"Racism of any kind, whether black, white, or anything in between is destructive of good human relations and should be repudiated by all thinking people. He who would be at a loss without the feelings of race solidarity needs to reconsider the basis of his hope. If his hope is in racial solidarity, it is a vain hope as it does not have the support of God. If his hope is in God, he does not need the prop of racial solidarity to bolster him, for he who has God has all, and he who has not God has nothing." (pg. 85).

"The sincere Bible reader will discover a twofold solidaric relationship among men: that of all men in Adam, and of all believers in Christ. These relationships have their source in God and are unchangeable. And what God has joined together, let not man put asunder. By virtue of the former solidaric relationship all men are sinners and under the divine sentence of death. By virtue of the latter solidaric relationship all who have been ordained to eternal life shall obtain that blessedness through Christ. The racist ignores these relationships and goes about to establish the solidarity of one phase of the human family. that such solidarity is divisive, unchristian, and destructive of any genuine harmony in society should be beyond doubt. The Christian must therefore be quick to repudiate all attempts to justify a segregated society, for segregation puts asunder what God has put together." (pg. 24).
"The Bible towers above racism as high as the heavens are above the earth. But too often Christianity has been made to serve racial ends. Too often Western Christianity has been made either the active servant of Western Imperialism or its passive defender, both of which are destructive of genuine Christian ethics. He who would profess the one true religion, Christianity, must acknowledge the existence of one God who has revealed Himself in the Bible, and of one human race of many varieties ever changing and never static, and of one Savior whose blood makes pure and spotless the greatest sinners. And the true Christian does not flee to the Bible to confirm his prejudices, but he allows the pure Word of God to purge away hsi prejudices as well as his sins." (pg. 31).
"The Bible assumes the unity of the whole human race. And because of such unity the gospel is applicable to all men without distinction of race, nationality, or language. However, it should not be necessary to elaborate on individual passages of Scripture that bear upon this particular subject. The burden of proof rests upon those who deny what the Bible clearly teaches. They must advance biblical passages that contradict those facts. This, we contend, they are unable to do." (pg. 70).
"While harmony depends on agreement, and agreement on understanding, in human relations the most basic ingredient of good understanding is association. Without association there can be neither understanding, nor agreement, nor harmony among men. Of course the ethical problem of sin underlies all strife among men, and no true harmony can be established among creatures who strive against God. Yet Christians who profess to have found peace with God have been woefully slow in realizing the implications of that peace in their relations with their fellow men." (pgs. 82-83).
"The love of God does not dwell in the hearts of those who withhold their 'love' from the handiwork of God. I fear they shall not see God, for how can they love a God who has made so many people they dislike?" (pg. 83).
"The 'race' concept is a divisive concept. It erects false barriers and inspires false hopes." (pg. 85).
"The church must give men a hope in God that can stand without the crutches of racial, national or color identity. It must undermine every ideology which encourages men to seek security in outward appearances, for all these will certainly fail. Only the true and living God never fails." (pg. 128).
I enjoyed this book much more than I thought I would. The author's genuine warmth and lack of bitterness was attractive! As I read it, I was convicted and challenged without feeling condemned. And, you could see that the author had a care and concern for 'racists' of all 'races' (although as you saw, he doesn't like that term!), whatever color they happen to be. And most of all, his solution was to continually go back to the Bible and to the work of Christ! This may not be a topic, or a book that you would normally read, but I think in our current cultural situation, it is a very important read!

With you longing to see our oneness in Christ lived out more and more in the flesh,

Pastor Dave
Telling a Better Story: How to Talk About God in a Skeptical Age
It feels like forever, but it was less than a year ago (March of '20) when we (almost) finished a study of Joshua Chatraw & Mark Allen's textbook, Apologetics at the Cross: An Introduction to Christian Witness in our Sunday evening studies. At times it may have been a little technical, but that is understandable as it was designed to serve as a text for undergraduate students. I thought the concepts in it were excellent to learn to equip believers to effectively gain a hearing for the Gospel in our present day culture. When I heard that Chatraw was going to write a less technical version of their 'inside-out' method of apologetics, I was eagerly waiting to get it and read it. That popular-level book is now available and my dear friend Pablo Herrera (apologist, youth director, and soon-to-be seminary graduate) gave me a copy of it for Christmas! (The only thing better than books is getting free books!);) And so, I am currently reading Joshua Chatraw's Telling A Better Story: How to Talk About God in a Skeptical Age (Zondervan, 2020). I highly recommend it (even though I haven't finished it yet), as I think it does a wonderful job of articulating our present cultural context, and finding new (but Biblically based) ways to communicate the unchanging truth in our very changing world! As the introduction describes, there was a time just a few decades ago, when Christianity seemed more plausible in our culture, seemed to be a viable option, and provided a sort of common ground background with which we could start with non-believers. But, as Chatraw says, "Now the cultural narratives that steep into our psyches have changed, and with this shift, what people view as 'common sense' has changed as well. The basic categories assumed in the Christian story are no longer taken for granted. And in many cases, this gospel story is presumed not only to be false, but an oppressive leftover from the past." (pg. 1).
So, what Chatraw proposes is that we learn to, as the title indicates, tell a better story! Many people today, particularly the younger generations, no longer care if Christianity is true or not. They are resistant to any form of external authority that they see as outdated and oppressive to their authenticity or self-made identity. But, ultimately they cannot escape the reality of living in God's world. Their self-constructed views of reality cannot satisfy them. Chatraw's method urges us to go 'inside' their views, to affirm what we can about their beliefs or aspirations, but also (respectfully) show that their 'story' doesn't achieve what they hoped. Then, we go 'outside', and show how Christianity offers a better story, one that ultimately fulfills their desires and concerns (meaning, self-identity, happiness, inclusiveness) better than the one they have created. These directions he offers in an apologetic method are not merely logical attempts at proof, but genuine appeals to the human need for beauty, meaning, hope, joy, and justice. We do indeed have a better story to offer!
Here's an example of how he presents a direction to go 'inside' the materialist view of 'meaning':
"If earth and mankind are simply accidents of nature, a chance collection of atoms, then what is beauty? Can we speak of the glorious sunset as beautiful without impoverishment? A lover as beautiful? One of Mozart's compositions as beautiful? The sight of a boy compassionately helping his widowed neighbor across the street as beautiful? And if we persist in naming such things as beautiful, what do we really mean by this?
If you tell your fiancé you find her beautiful, do you mean to say you prefer her random conglomeration of atoms over others, while admitting your preference is itself a product of neurons firing in your body over which you have little to not control? Embracing this perspective would seem ridiculous to most people. When we look at a gorgeous sunset or at our child, we intuitively assume significance and beauty much deeper and fuller than what a purely secular framework can provide.
Experiencing beauty evokes a sense of longing for something more than this life can offer. In their song, 'Somewhere Only We Know,' the English rock band Keane expresses the bittersweet longing that beauty often evokes in people, no matter how religiously lethargic they may be. It's interesting how people, in an effort to recapture the sublime feeling they've experienced in the past, will sometimes return to the places where they've encountered beauty, hoping to find it again. But they are almost always disappointed when they realize the places from their past aren't what they once were. Keane's song speaks to people's desperate longings to reexperience these feelings because they sense something meaningful and perhaps even transcendent that is calling them to something higher--something that cuts to their very purpose in life." (pgs. 80-81).
And here is his move 'out' to the Christian story's explanation for beauty:
"Christians believe that true beauty exists because God exists; all that is good, true, and beautiful is from God himself. God created the world for people to enjoy and delight in, and though the beauty in this world exists in a fallen state, marred by the effects of sin, it witnesses to himself, pointing us to his lovingkindness. Moreover, the fallen beauty we see in the world is but a shadow of what is to come; the beauty we see here, though it brings us joy, also makes us long for the coming day when beauty will be fully renewed to a perfect state. One of C.S. Lewis's central characters in his novel Till We Have Faces expresses this yearning that is felt in the midst of beauty: 'It was when I was happiest that I longed most...And because it was so beautiful, it set me longing, always longing, always longing. Somewhere else there must be more of it.'" (pg. 81).
We DO have a better story than any competing narrative offers, the trick is to learn how to present it in new and appealing ways that show the truth, beauty, and reasonability of the Christian faith in contrast to various alternatives that now largely lack any sense of transcendence and largely only look 'inward' for truth! Chatraw's book is a great resource to help us do this more effectively.
Here are the main two places to find it
Amazon
&
CBD
.
With you rejoicing in the better story of the Gospel,
Dave
Douglas McKelvey's Every Moment Holy, Vol. 1 & 2
One of the coolest books I purchased this past year was Douglas McKelvey's Every Moment Holy, Vol. 1.(Rabbit Room Press, 2020). If you have not heard of it, Every Moment Holy is a liturgy book of prayers for the very ordinary parts of life! I really like it.

Apparently, Vol. 1 resonated with many people around the world, and next month, Every Moment Holy, Vol. 2: Death, Grief, and Hope (Rabbit Room Press, 2021) will be released. The title alone sounds like it will be encouraging and helpful for many in these difficult times. Back in October, the Rabbit Room shared a preview of this upcoming book, by sharing one of the liturgies from it, called, "A Liturgy for Embracing Both Joy & Sorrow". I hope it is an encouragement to you today! If you are interested in learning more about this book, you can read the original post and pre-order Vol. 2 here: https://rabbitroom.com/2020/10/a-liturgy-for-embracing-both-joy-sorrow/

Enjoy your day friends!

With you in joy and sorrow,

Pastor Dave



Gentle and Lowly: The Heart of Christ for Sinners and Sufferers by Dane C. Ortlund
In the providence of God, this book coming out early in a year like this was a blessing! It is a soul-refreshing feast for weary, discouraged and tired people - like you and me! With a heavy reliance upon the Puritans and careful examination of various Scripture passages, the author points us to the heart of our Savior for us. It really is a healing and encouraging book because it reorients our thinking about the nature and expression of God's love for us. Highly recommend you not only read it, but plan to read it once a year (or more) - it's that good!

Seven Churches, Four Horsemen, One Lord: Lessons From The Apocalypse by James Montgomery Boice
The late James Boice was a masterful preacher, and possessed an R.C. Sproul-like ability to communicate complex theology and difficult Scripture passages in a clear and understandable manner. Thanks to his widow Linda, and his friend and former protege, Philip Graham Ryken, these manuscripts of his final, unfinished sermon series on Revelation is now available for a wide audience. Unfortunately, he began this series in Nov. of '99, and during it was diagnosed with liver cancer, and preached the final message in April of '00. Therefore it only covers Rev. 1:1- 6:17. His explanations of various aspects of Revelation are such that once you read them, you think, "Wow, that makes so much sense - why didn't I see that before?". Again, even though Revelation is a complex book, these lively, engaging sermons are easy to understand and extremely edifying!

The Good Name: The Power of Words to Hurt or Heal by Samuel T. Logan, Jr.
Samuel Logan is a former president of Westminster Theological Seminary (Philadelphia), who was asked to resign by the seminary board for "shading the truth and bearing false witness" in 2003. In the introduction, he not only acknowledges his guilt, but how the Lord used it to lead him on a pilgrimage that eventually led to this book that seeks to unpack and apply the full extent of the Ninth Commandment. As he puts it, "My purpose in writing is to show that, as Christians, our words exist to reflect Christ's character--his holy concern for God's good name, his constant love for others, and his absolutely reliable truth. When our words are scornful, selfish, or false, they dishonor Christ. And especially when we speak such words to or about fellow Christians, they can cause great damage in Christ's church. We all must learn to use our words with godly care, I first of all." (pg. 1-2). I was hooked from that opening, and greatly convicted through the rest of the book. Be warned, you will be challenged and convicted in new ways, and that's a good thing!

A Gentle Answer: Our 'Secret Weapon' in An Age of Us Against Them by Scott Sauls
(Disclaimer: Scott is a dear friend and my former roommate in seminary, but I think I would recommend this book even if I didn't know him!). The book title comes from Proverbs 15:1 (NIV), "A gentle answer turns away wrath, but a harsh word stirs up anger." And I think, to paraphrase Esther, this is a book "for such a time as this". In days where outrage and unfiltered speech dominates the internet and our public discourse, it is too easy for Christians to imitate the world's weapons. But is that the way Christ would have us deal with the world (or each other)? Scott convincingly shows us from God's Word how we are called to live differently, speak differently, and reflect the countercultural model that Jesus gives us in Scripture. As the back cover says, it helps Christians:"grow in affection for Christ, who answers our hostility with gentleness; nurture a renewed, softened heart in light of Christ's gentleness toward us; and forsake us-versus-them mentalities, putting down our swords and permeating a hostile world with gentleness." In our current "outrage of the day" culture, this book was a refreshing reminder of what made the Gospel and Jesus so compelling and so different, and the Lord used it to convict me in many ways. It's a great companion book to Logan's book above, but with a different emphasis.

Devoted to God's Church: Core Values for Christian Fellowship by Sinclair B. Ferguson
I had just finished this book in the last week or so, and, as with most of Ferguson's works, I loved it! How can we improve our church? By understanding better what church life is supposed to look like! This book looks at what the New Testament teaches about the values, functions, ordinances, and disciplines that are for all churches throughout all times and places. As is characteristic of Ferguson, he takes God's Word, explains it clearly and plainly, and applies it. The only thing better than reading this, would be listening to him read it in his Scottish accent! Seriously, this book will make you love the church more, and help you to be a better member of the church!

Pastors and Their Critics: A Guide to Coping with Criticism in the Ministry by Joel R. Beeke & Nick Thompson
Wait! Don't skip past this one! Yes, it is primarily focused on pastors, but I think it is more widely applicable and helpful. Anyone in church leadership could benefit from this excellent work by long-time pastor and professor Joel Beeke, and (at that time) seminary student Nick Thompson. In fact, I would argue, if you want to learn to better deal with criticism in any profession or relationship, this book is helpful! They first give foundations from Scripture for coping with criticism, both from the Old and New Testaments, and then the bulk of the book is practical principles for coping with criticism. I appreciate how the authors make the distinctions between hostile and friendly criticism, when to respond to criticism, how to receive it, and when not to respond to it. They also give a section on how to give criticism well, and how to cultivate a church culture that is open to constructive critique. And the book closes with an excellent chapter on developing a theological vision for coping with criticism that reorients your perspective. As a natural 'people-pleaser', this book was a huge help and encouragement to me, and I think it will help you as well!

When the Stars Disappear: Help and Hope from Stories of Suffering in Scripture (Suffering and the Christian Life, Vol. 1) by Mark Talbot
(Disclaimer #2 - Mark is also a friend, and a trusted counselor for me). This little book is the first of four books planned about suffering in the Christian life. I really appreciated how the author displayed not only a keen sense of empathy with the experience of the Biblical characters and what they went through, but he explains both his own experience with suffering, and the traumatic death of one of his students and his interactions with that student's parents in the wake of his loss. So I might say the formula of this book is the experience of profound suffering + empathy for the sufferings of others + great Biblical and academic knowledge = a book that is both pastorally helpful and Biblically faithful. Highly recommended for those suffering, and for those who want to help them.

Finding the Right Hills To Die On: The Case for Theological Triage by Gavin Ortlund
This book is also helpful for our day, in navigating the balance between the unity we are called to as Christians, and the differences we have in various Biblical and theological interpretations. How much can we unite with those who disagree with us on.... baptism? charismatic gifts? millennial views/eschatology? Gavin Ortlund (son of Ray and brother to Dane) both shares his own story of wrestling with these things and presents a helpful fourfold ranking to help us distinguish between different doctrinal levels. In other words, what are the most important ones, essential to the gospel itself, and what are second rank doctrines, "urgent for the health and practice of the church such that they frequently cause Christians to separate at the level of the local church, denomination, and/or ministry" pg. 19). Third rank doctrines are important, but not enough to justify separation or division, and Fourth rank doctrines are unimportant to our gospel witness and ministry collaboration. While a reader might quibble on the placement of certain doctrines within these four sections, it would be hard for any reader not to benefit from this helpful little book. For a personal example, it confirmed for me why I consider the pastor of Crawford Avenue Baptist a good friend and a brother in Christ, but that our differing views on baptism, as a second-rank doctrine, are why we are in different denominations. Our differences of interpretation on that issue are urgent for the gospel, yet we are still ministers of that same gospel! A great book to help think through these kinds of issues among believers.

The Rise and Triumph of the Modern Self: Cultural Amnesia, Expressive Individualism, and the Road to Sexual Revolution by Carl R. Trueman
I am early in this book, but it has been all over the "Best of" lists this year already. It, as the foreword by Rod Dreher explains, seeks to explain modernity to the church, "with depth, clarity, and force". In light of the drastic changes in our culture in so many areas, and particularly in the area of sexuality and gender, this book helps us see how we have come to this point, and where we might go from here. It is weighty (400 pages), but not designed to be academic. It is, as one endorsement says, "perhaps the most significant analysis and evaluation of Western Culture written by a Protestant during the past fifty years." Carl Trueman is a clear and even witty writer, and that helps make this book more accessible than it might be in lesser hands. He was a professor of Church History at Westminster Seminary for many years, and is now professor of biblical and religious studies at Grove City College. He is an insightful historian, and a keen observer of culture. This may not be a book you necessarily want to read, but it is a book that you really need to read to understand our cultural situation biblically, historically, and experientially (at least in the eyes and lives of those we are trying to reach). I expect I will continue to be challenged, informed, disturbed, and equipped as I continue on in this book.

The Christmas We Didn't Expect: Daily Devotions for Advent by David Mathis
Some of you may remember the Habits of Grace Sunday school class, based on a book by David Mathis, the executive editor for Piper's Desiring God ministry. Here, he gives us meditations for advent designed to reignite our wonder, our joy, and our hope at the One who came down in human flesh to redeem a people for Himself. Each devotion is only a few pages in length, and ends with an appropriate prayer to pray afterwards. Allegra and I started using it last night, and I already think it will be very helpful in our meditation on and celebration of Advent and Christmas. It's not too late to grab a copy for yourself!